Metaverse Training
When Mark Zuckerberg announced Facebook's rebranding to Meta, the term metaverse became a buzzword overnight. In addition to generating excitement, this concept has garnered interest in its potential to impact the future of digital interaction. Neal Stephenson coined the term "metaverse" in his sci-fi novel Snow Crash, in which he imagined lifelike avatars interacting with each other in realistic 3D buildings and other Virtual Reality (VR) environments. In January 2022, Google and Microsoft followed suit and announced investments in the metaverse. According to Statista, the metaverse market size is expected to reach $47.48 billion, before rising to $678.8 billion by 2030.
The metaverse refers to an online environment where Augmented Reality (AR) and Virtual Reality can coexist. It provides a fresh digital world to collaborate, solve problems, and practice in, with an interactive engagement method. The metaverse allows people to learn faster, retain information better, and manage their own learning experience. This environment simulates the physical world while incorporating digital tools and allowing learners to interact as avatars. Metaverse activities can replace real-world experiences, and with the development of the metaverse learners may have increasingly authentic experiences of being present in other realms.
Technologies That Play A Major Role In The Metaverse
1. Virtual Reality
Virtual Reality refers to a 3D and computer-generated virtual environment that either replicates or creates the illusion of a real world and has the potential to deliver a truly immersive and engaging learning experience. Using VR as part of the training experience will allow learners to learn and develop in ways that go beyond a classroom setting. VR allows learners to experience true-to-life situations without risking their safety in the real world. One of the most notable usages of VR is seen in the video game industry.
2. Augmented Reality
In Augmented Reality, objects are created and enhanced with text, graphics, audio, and virtual information in real time. It enhances the digital experience by combining the natural environment and the virtual space where the objects interact with the world. AR is most suited for specific technical training where learners may require quick reference to technical information to make a repair or use machinery. By lowering the distractions and capturing the learners' attention, it enhances physical engagement with digital content.
Impact Of The Metaverse On The Learning Domain
Industries dealing with high-risk environments such as manufacturing, energy, and construction are already leveraging the benefits of metaverse learning. Now other industries are showing interest and exploring the space to enhance their training programs. The metaverse offers an infinitely expansive learning environment that provides a learner-centered experience because of the emotional and cognitive effect that can be achieved by creating true immersions. With the increasing number of organizations moving to remote or hybrid workplaces, executives not only appreciate the need but are embracing new approaches to train and develop their teams in order to stay agile and competitive. Metaverse collaboration techniques allow learners to engage in any environment or situation. Using the metaverse in conjunction with Learning and Development (L&D), learners will be able to put their physical limitations aside and experience new ways to learn.
The metaverse will revolutionize training and skills development, drastically reducing the time needed to develop and acquire new skills. Experiential learning is the most effective way to learn, according to a recent study, which has shown that learning through experience increases learning quality and retains information better by up to 75%. As a result of metaverse learning, simulations will become avatar-based, geared toward collaborative learning as well as interactive working. Research firm Gartner predicted that 25% of people will spend at least an hour a day in the metaverse by 2026. A few use cases for the metaverse that are emerging across every industry are:
1. Onboarding Training
Employee onboarding, and training employees on various services/products and company policies can be daunting and time-consuming. The metaverse is an intuitive solution where the new hires join in the virtual space and are familiarized to the organization's culture and ethics. Besides benefiting the new hires, the metaverse also helps the organization by reducing training time and creating lasting impressions.
2. Safety Training
Organizations apply this technology for crucial training to engage learners, providing practice and instant feedback. The metaverse provides learners with an immersive safety training experience in which learners can become familiar with the threats and risks at the workplace while remaining entirely safe.
3. Sales Training
Gone are the days of classroom-based training. The metaverse is leveraged to provide enhanced training to employees. Trainers and sales personnel along with their managers can meet in the metaverse for sales training. Using storytelling and branching scenarios helps employees to be prepared for various situations and also guides their learning experiences.
4. Skills Training
One of the direct costs associated with in-person training is materials. The metaverse allows learners to make mistakes without exhausting physical materials. This facilitates learning without hesitation and saves resources. Metaverse training is not only used for technical training but for soft skills training as well. Metaverse avatars help in nurturing important skills, such as communication, teamwork, customer service, and people-facing skills. The metaverse platform enables learners to gain hands-on experience that expedites their learning process and increases efficiency.
Moreover, the metaverse can be used to virtualize different kinds of training. It can be used to develop a complete training setup—classroom, stage, podium and seating desks for an experience like in real life. In training sessions, trainees can appear as avatars, as real as possible, or as fictional as desired.
How The Metaverse Adds Value To Training
In the age of eLearning, employers seek to create more interactive and engaging learning experiences for their employees. Learning through the metaverse allows learners to gain experience and exposure. It allows L&D teams to link immersive content and embed storytelling methodologies to express learning in new and exciting ways. With their 3D technology, and interactive design and modules, VR and AR provide a powerful vehicle for more meaningful learning. The metaverse can benefit eLearning in several ways:
1. Learner-Centered Solution
Learners today want contextual learning that they can relate to and stick with. Metaverse environments are engaging, exciting and interactive places to learn and practice, without limitation of time or usage of materials. It boosts employee engagement by creating a captivating learning environment that allows learners to learn and interact with colleagues, managers, and trainers in real time. The more actively learners are involved in learning, the more effective the outcomes are. This type of learning is an advanced form of active learning that creates a fully simulated environment for learning, using extensive role-play or situations where learners interact with the experience. These features have made metaverse technology a popular tool for creating immersive learning environments. Moreover, learning that is enjoyable will be more effective.
2. Better Decision-Making
With the help of the metaverse, organizations can provide more opportunities for learners to learn and access knowledge. The metaverse aids in decision-making as everything can be measured. Understanding learner behavior in the metaverse and how they engage and acquire information today will help identify opportunities where their experience can be improved. Learning analytics provide an in-depth understanding of how learners are progressing and achieving their goals. Measuring the effectiveness of training programs help organizations to find out what a learner needs when, and decide whether training courses are working for a particular set of employees or not. The virtual world will constantly grow and evolve based on decisions and actions made to increase employee engagement and efficiency.
3. Addressing The Hybrid Workplace
Organizations have changed the way they hire, work, and collaborate with their employees as a result of the pandemic. Since almost every organization has moved to a work-from-home or hybrid workplace model, connecting and collaborating with employees has become increasingly challenging. The metaverse has the potential to address all the existing challenges to remote work. It provides organizations the means to use it for department-centric training, large-scale events and everything in between. It provides managers with a virtual environment where they can meet employees (their avatars), communicate with them, and retain in-person interaction. The virtual space can be dedicated to different teams for collaboration to help solve critical business problems. Utilizing avatars, the metaverse enables the organization's communication and collaboration to become much more interactive. It helps employees and employers grow together.
Final Thoughts
As technologies evolve, we need to keep a constant watch on more sophisticated modalities and their learning effectiveness. The metaverse is the next evolution of the internet and it has already begun. The metaverse will have a significant impact on eLearning, giving the virtual learning environment a more lifelike feel and making learning itself more engaging and experiential. Organizations must choose their learning modality wisely and ensure it aligns with what learners want and the business requirements.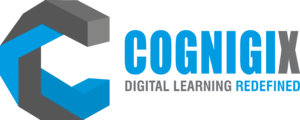 Cognigix
Digital Learning Redefined