Ready To Launch An Employee Upskilling Program?
One of the most common challenges that organizations face is finding the right person for the job. Ultimately, you need qualified employees who fit in with the team, represent your company culture, and perform at their full potential. So, rather than trying to find someone who ticks all of these boxes through a costly and time-consuming hiring process, you might consider launching an employee upskilling program that fine-tunes your internal talent.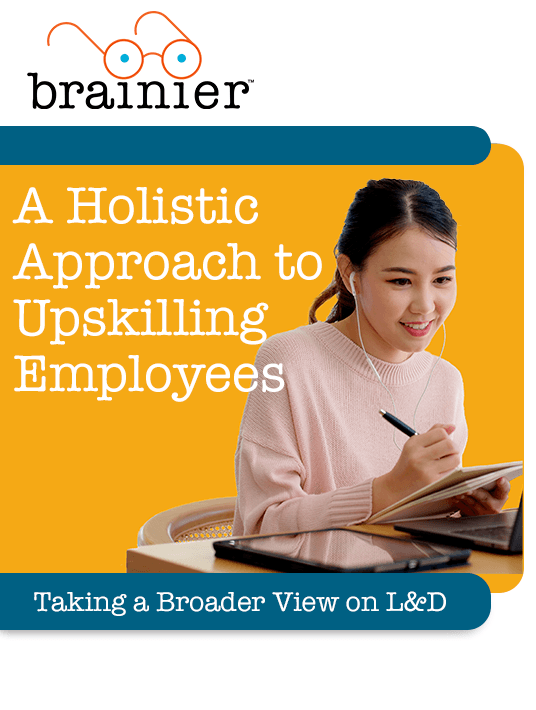 eBook Release
A Holistic Approach To Upskilling Employees
Instead of seeking people who have already developed skills, discover how to boost the talent of existing employees through holistic upskilling.
Why Upskilling Trumps Recruitment
Typically, there are two options when it's time to bridge gaps within your organization: onboard new team members, or train the ones you've already invested in. The advantage of upskilling employees is that they already possess many of the qualities you need to get the job done and achieve your objectives. Training empowers them to take on new responsibilities and seek out career advancements so that they contribute even more to your organization (and don't look for professional fulfillment elsewhere). As a result, you hold on to your top performers, who continually build their skills and competencies while also saving resources that you would have allocated for recruitment and onboarding.
About This eBook
Why is upskilling so essential for long-term business success? How can you find the right solution for your workforce? Which strategies can you employ to upskill employees who are ready to take on new challenges? Here's a brief glimpse of what you'll find in this guide by Brainier:
Why Upskilling Is On Everyone's Mind
The Thing About Skills-Based Learning Programs…
Why A Holistic Approach To Upskilling Is Necessary
Why Strategy Is So Important
Where Everyone Fits In
How Industries Are Leveraging Upskilling
Considerations For Finding Success In The Process
Additional Strategy Ideas
How To Get Your Copy
Download the eBook A Holistic Approach To Upskilling Employees by Brainier today to learn how you can create skill-building opportunities for your team.